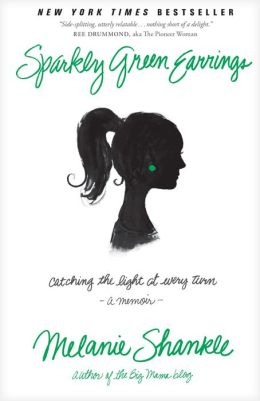 From the publisher:
"There is really no better indicator you're a mother than acquiring the ability to catch throw-up in a plastic bag, disinfect your hands, and immediately ask your friend to pass the beef jerky as you put on another Taylor Swift song and act as if nothing has happened."
This is the type of insight Melanie Shankle offers in this quirky memoir of motherhood.
Written in the familiar, stream-of-consciousness style of her blog, Big Mama,
Sparkly Green Earrings
is a heartwarming and hilarious look at motherhood from someone who is still trying to figure it all out. Filled with personal stories—from the decision to become a mother to the heartbreak of miscarriage and ultimately, to the joy of raising a baby and living to tell about it—
Sparkly Green Earrings
will make you feel like you're sitting across the table from your best friend. A must-read for anyone who's ever had a child or even thought about it.
_____
I had a friend who reviewed this book. I read the review but didn't have the desire to pick up the book at that moment. However, I was wrong. I should have picked it up right away! Melanie Shankle is an author I want to continue to read.
Throughout the book I laughed and chuckled. Her insight and advice from motherhood is laced with humor and will guarantee that at some point the reader will be laughing along as they read. Melanie really did catch the light at every turn. She turns sour situation into ones that the reader can laugh at and try to see the humor in the reader's own life in similar situations.
The other part of catching the light at every turn was in the way Melanie saw the joy in each situation. Of course she isn't perfect, but who is, and it made her easy to relate to. She shares her love for God and her husband and daughter--all the while growing in those areas. She catches the light at every turn with love and laughter. It is a fun and beautiful read.
The chapters were short and easy to read. While I quickly read through the book, a reader could easily read a chapter at a time and enjoy each tid-bit without needing to rush through the book or feeling that they had to commit to sitting down a spending a big chunk of time reading right then.
I would recommend this book to people with or without children. I know they will enjoy it.