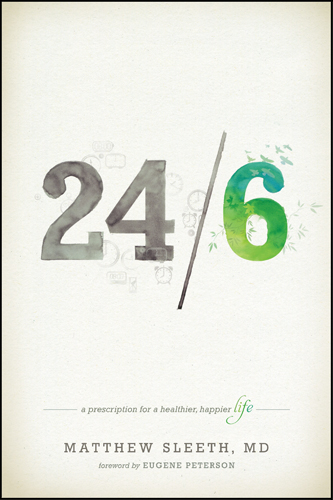 From the publisher:
"Remember the Sabbath and keep it holy."
Sounds nice, but how do we find rest in a 24/7 world? Just as the Hebrews were slaves in Egypt, we have become slaves to technology. Our technological tools allow 24-hour productivity and connectivity, give us more control, and subtlety enslave us to busyness itself. Sabbath is about restraint, about intentionally not doing everything all the time just because we can. Setting aside a day of rest helps us reconnect with our Creator and find the peace of God that passes all understanding. The Sabbath is about letting go of the controls one day a week and letting God be God. So how do we do it?In
24/6,
Dr. Matthew Sleeth describes our symptoms, clarifies the signs, diagnoses the illness, and lays out a simple plan for living a healthier, more God-centered life in a digitally-dazed, always-on world. Sleeth shares how his own family was dramatically transformed when it adopted Sabbath practices and helps readers better understand how their own lives can be transformed - physically, emotionally, relationally and spiritually - by adopting the 24/6 lifestyle.
________
This was a great book. I was surprised to find a book written about keeping the Sabbath by someone who didn't press a certain day. His focus is on honoring a day with God and keeping it holy. While I personally believe that Saturday is the seventh-day, as the Bible declares, this book in really can be a blessing to everyone. I can already think of people that I would like to give this as a gift to.
Each chapter I would highlight multiple sections. I loved this book. I felt a clearer idea of the Sabbath and was thrilled to hear Dr. Sleeth speaking about the Sabbath. This is such a needed book for this day and age. We are rushing ourselves and don't make any time for restoring ourselves with God spiritually, physically mentally.
I appreciated that Dr.Sleeth took time to address certain concerns with keeping the Sabbath and what it would "look like". He writes in such a way that doesn't come across as preachy, but rather as someone who is learning about keeping the Sabbath and wants to share the blessings with others.
At the end of the book there was as whole chapter/section of Bible verses for you to pray and study over pertaining to rest, Sabbath, and time with God. Dr. Sleeth has obviously done his research and wants to share the Biblical foundation of keeping the Sabbath holy with God.
I highly recommend this book to others.