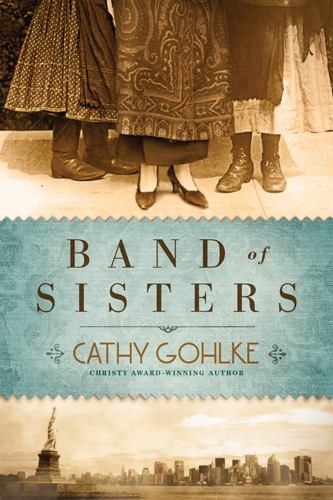 From the publisher: Maureen O'Reilly and her younger sister flee Ireland in hope of claiming the life promised to their father over twenty years before. After surviving the rigors of Ellis Island, Maureen learns that their benefactor, Colonel Wakefield, has died. His family, refusing to own his Civil War debt, casts her out. Alone, impoverished, and in danger of deportation, Maureen connives to obtain employment in a prominent department store. But she soon discovers that the elegant facade hides a secret that threatens every vulnerable woman in the city.
Despite her family's disapproval, Olivia Wakefield determines to honor her father's debt but can't find Maureen. Unexpected help comes from a local businessman, whom Olivia begins to see as more than an ally, even as she fears the secrets he's hiding. As women begin disappearing from the store, Olivia rallies influential ladies in her circle to help Maureen take a stand against injustice and fight for the lives of their growing band of sisters. But can either woman open her heart to divine leading or the love it might bring?
____
In the author's note, Cathy Gohlke shares that she was challenged to write a book about a current and relevant topic by her son. Cathy Gohlke has done just that. In a book the details some of the history of "white slavery" or women being sold into prostitution she bring to the readers mind the horrors of it. And in doing so, Cathy Gohlke brings to mind that this is not a past issue--instead this is a real issue that goes on in the world today and must be addressed. I was very impressed with Cathy Gohlke's ability to draw us into a story about women, sisters, and the men who love them, and the men who lusted after them and used them--to teach the modern day readers that there are still others who are out there who need to be defnded and fought for, and we are to do what jesus would do.
This book can be an inspiration for anyone. Whether or not you feel called to help in the cause mentioned in this book, or another cause that is near and dear to your heart--Cathy challenges her readers with the characters who are challenged to ask themselves "What would Jesus do here and now?" And then to live that out themselves. And that is what we, as Christians must do.
Cathy Gohlke's character's tug at your heart. Each character has their own strenghts and weaknesses but each one is struggling toward doing what they feel is right and best. Woven through the book is the strong theme that God is forgiveness and love, even when we think we are below it.
There are so many lessons that each character must learn and deal with and that makes this book a soul searching book for the reader to take a look at their own lives and see what it is that God is trying to do in their life.
This book will keep you reading and turning the pages, to find out what happens next. Not everything is tied up neat and tidy at the end--but that also make it more realistic and heartbreaking--and it should motivate us to do something now to change the fate for other women in the world.
I highly recommend this book.