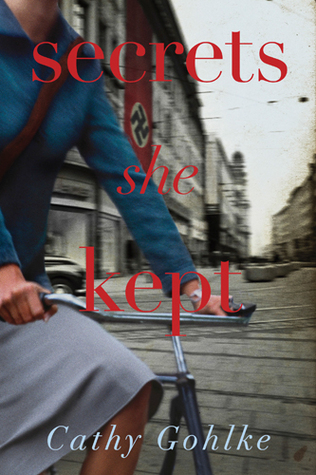 From the publisher:
The secret a mother was forbidden to share . . . the consequences a daughter could not redeem—but will risk everything in her attempt.
All her life, Hannah Sterling longed for a close relationship with her estranged mother. Following Lieselotte's death, Hannah unlocks secrets of her mother's mysterious past, including the discovery of a grandfather living in Germany.
Thirty years earlier, Lieselotte's father, ascending the ranks of the Nazi party, demands a marriage for his daughter to help advance his career. But Lieselotte is in love—and her beloved Lukas secretly works against the Reich. How far will her father go to achieve his goal?
Both Hannah's and Lieselotte's stories unfold as Hannah travels to Germany to meet her grandfather, who hides wartime secrets of his own. Longing for connection, yet shaken by all she uncovers, Hannah must decide if she can atone for her family's tragic past, and how their legacy will shape her future.
________________
I sit here kind of stunned and in shock as I've just finished reading Secrets She Kept by Cathy Gohlke. This author knows how to keep your heart pounding from the first page to the very last and then some. She deserves 5 stars for this work of genius. A word of warning though, this book does not have a "happily ever after" ending. Yet it was a book I would not have wanted to miss! In the first four chapters I went from literally feeling disdain for Hannah's "distant" mother to feeling pity and mercy wrapped in love for her. This story makes the statement about walking a mile in another's shoes come to life. In a brisk, honest, sometimes brutal telling of WWII Germany the author takes us on a journey to uncover family secrets. Along the way the reader is brought face to face with intense emotions dealing with judging, betrayal, forgiveness and God's role in all of this. If you're up to a book that challenges you and may rock you to the core, go get this book now!
I received this book free from the publisher in exchange for my honest review.