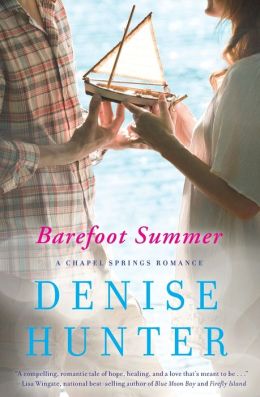 From the publisher:
In the years since her twin brother's drowning, Madison McKinley has struggled to put it behind her. Despite the support of her close-knit family and her gratifying job as a veterinarian in their riverside town, the loss still haunts her.
To find closure, Madison sets out to fulfill her brother's dream of winning the town's annual regatta. But first she has to learn to sail, and fast.
Beckett O'Reilly knows Madison is out of his league, but someone neglected to tell his heart. Now she needs his help—and he'll give it, because he owes her far more than she'll ever know.
Madison will do anything—even work with the infamous Beckett O'Reilly—to reach her goal. And as much as she'd like to deny it, the chemistry between them is electrifying. As summer wanes, her feelings for him grow and a fledgling faith takes root in her heart.
But Beckett harbors a secret that will test the limits of their new love. Can their romance survive summer's challenges? And will achieving her brother's dream give Madison the peace she desperately seeks?
______
This book was an enjoyable read. I didn't realize how much time was passing as I read this book because Denise Hunter creates a story that envelopes you from start to finish. I easily finished this book in one day.
I have never read anything by Denise Hunter before, but I will definitely be looking for her other books from now on.
Barefoot Summer is the perfect title for this book and really captures what Denise Hunter is trying to share with readers. However, she reveals it so subtly and artistically that the reader will find themselves understanding the lesson of a barefoot summer intrinsically before Hunter explicitly shares.
In this story readers will sympathize with both Madison and Beckett in their journeys. Hunter shares faith in both of their stories but in different ways that will connect with different readers. She shares hard questions that many of us have with God and gives some view into the reconnection with God that we all need.
My only hope for Denise Hunter is that I will see more of the same characters in her future books.
I recommend this book to others.
I receive this book free from Booksneeze in exchange for my honest review.