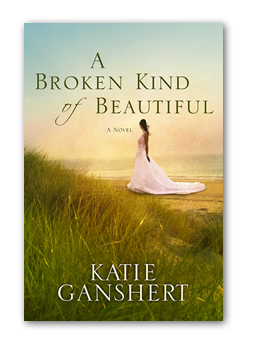 I want to thank Katie Ganshert and her publisher WaterBrook Press for an ARC of this fantastic book. I have read Katie Ganshert's first two books and loved them. This one will be on my top ten for 2014 and I know it will impact others as it has impacted me.
Even before I had the ARC in my hand I was intrigued to read it when I read this
quote
from Katie Ganshert,
"A Broken Kind of Beautiful was inspired by the greatest love story of all time--Jesus and His Bride. Around the time I began plotting, I was thinking a lot about what makes the romance genre such a popular one. I think it's because deep inside most women is this longing to be desired, pursued, fought for. Not half-heartedly, but passionately.
Our men can't fill that longing, because our men aren't meant to. That role belongs solely to Jesus. He fights for us and pursues us with a passion we can't even begin to fathom. I wanted to write a story about that romance, which is how A Broken Kind of Beautiful was born--a story of Jesus's relentless pursuit for one woman. A woman who ultimately, could be any one of us."
Reading that quote made me realize again that Katie Ganshert is not an author to produce fluff. She is writing out of her heart and her desire to share Jesus' love with others. Her gift in writing is obvious when you read her books, and knowing her heart behind her writing reveals that she is going to remain as on of the best writers we have seen, especially in the way she writes God into each of her stories.
______
From the publisher:
Sometimes everything you ever learned about yourself is wrong
Fashion is a fickle industry, a frightening fact for twenty-four year old model Ivy Clark. Ten years in and she's learned a sacred truth—appearance is everything. Nobody cares about her broken past as long as she looks beautiful for the camera. This is the only life Ivy knows—so when it starts to unravel, she'll do anything to hold on. Even if that means moving to the quaint island town of Greenbrier, South Carolina, to be the new face of her stepmother's bridal wear line—an irony too rich for words, since Ivy is far from the pure bride in white.
If only her tenuous future didn't rest in the hands of Davis Knight, her mysterious new photographer. Not only did he walk away from the kind of success Ivy longs for to work maintenance at a local church, he treats her differently than any man ever has. Somehow, Davis sees through the façade she works so hard to maintain. He, along with a cast of other characters, challenges everything Ivy has come to believe about beauty and worth. Is it possible that God sees her—a woman stained and broken by the world—yet wants her still?
______
Katie Ganshert has a way of writing that will cause you feel the emotions of the characters. Her writing is deep and thought provoking yet easy to read. The style of writing is one that is effortless to read and enjoy. The story moves along smoothly, catching your attention at each turn in the plot, but you won't feel rushed or bogged down.
Ivy is a character that so many women, and even men, can relate to. She is struggling with holding onto the one thing she thinks is her identity. She doesn't even like what her identify may say about her, but at least it gives her some definition. I felt an ache toward Ivy and all she was going through. What amazed me what how the unconditional love of God was shown to her.
Davis Knight is also someone who is living his life in a way that shows he has not accepted God's unconditional love. His story is different than Ivy's and will touch another group of readers who know God, love Him, but yet have done something in their lives they feel guilty for and cannot move past that. Davis's character is as real, flawed, and engaging as Ivy's.
And of course, as a Christian romance novel readers will love the drama as it plays out between Ivy and Davis. What I really appreciated in this area was that while we understood Ivy's world, the details were not written about in a way that would make anyone uncomfortable. Many "Christian" novels have descriptions of scenes that are not Christian. Katie Ganshert reveals Ivy's world to you in a classy Christian way.
My favorite character was Marilyn. I had no idea that she would be the one that stuck with me the most, but she did. I don't want to give away too much from the story, but the fact that Katie Ganshert wrote her into this story and how she did it, again shows what an awesome author she is. This book is not one that soley focuses on just the two main love interests but expands to include others that will shape the character's and plot in the book.
This book will linger with you after you have read it. The feelings of the characters and unconditional love will remain with you after you have closed the book.
I highly recommend this book.
Click
here
to purchase it from Amazon.
Click
here
to visit Katie Ganshert's website.